Varied as our activities and projects are seen to be, there is one common characteristic - a vital element - an unwavering commitment to quality.
This philosophy ensures that we meet the requirements of our customers at all times. Nothing is more important to us than customer satisfaction. It must be earned in the first place through quality; and it can only be retained through a planned and structured policy of continuous quality improvement.
We are always developing new methods to enhance our products and services. Equipment, tools and standards will be maintained to provide our people with convenient and adequate control of the precision of all tasks.Our people will be well informed as to their individual and collective roles and responsibilities, and will be empowered to take ownership of quality to assure satisfied customers.
All processes will be designed to prevent defects, minimize work in process, and provide the flexibility needed to meet or exceed customer expectations.Procedures in all functions of our organization will use systematic approaches to provide major opportunities for increasing customer satisfaction.
Products and services for all customers will meet or exceed expectations for quality and service.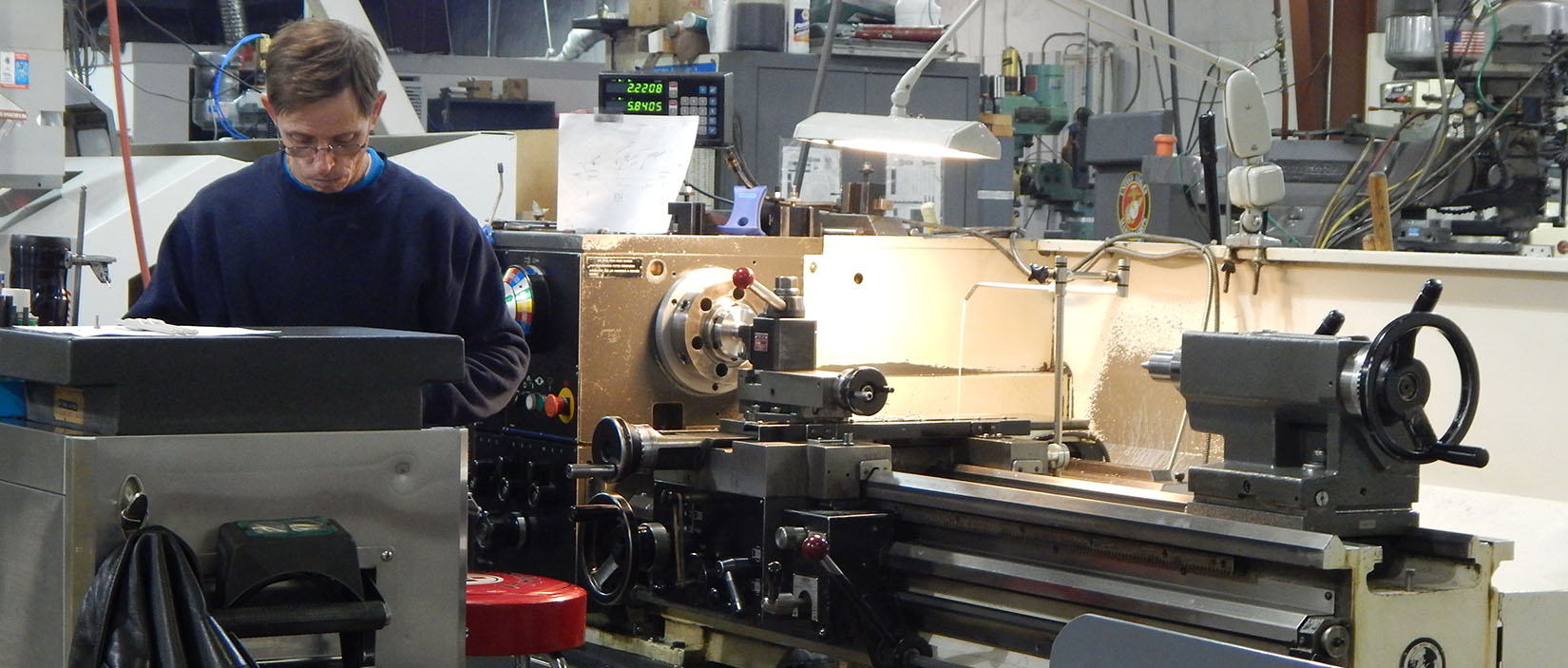 We provide efficient, economical solutions
• Design and Building of Machines, Tools,
Fixtures, Gages, Prototypes
• CNC Milling
• Metal Turning
• Grinding
• Sheet Metal
• Drilling and Tapping
• Conventional EDM
• Progressive Dies
• Stamping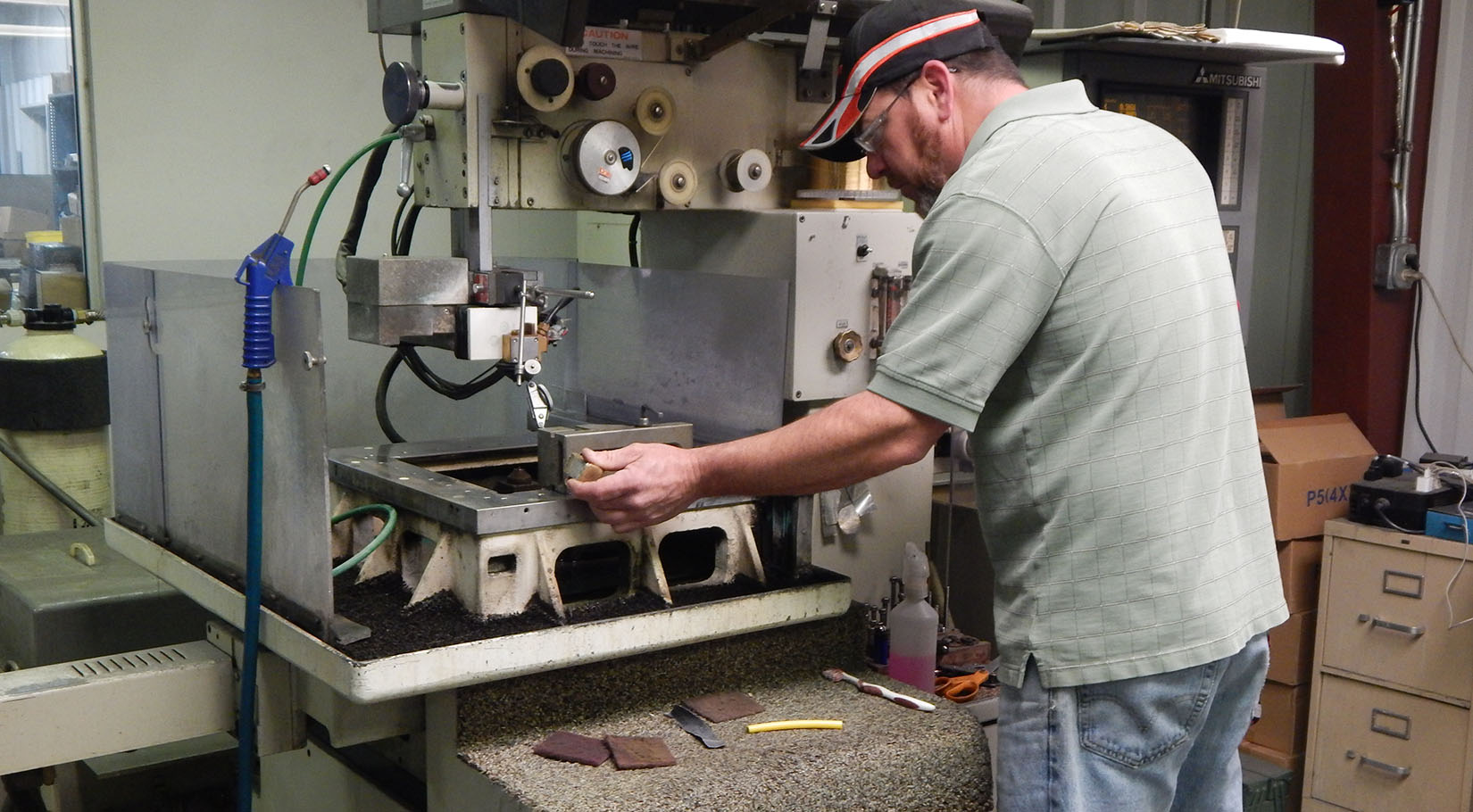 Milling Equipment
HAAS VF-3 Vertical Machining Center Table size: 20" x 40", Vintage: 1993
HURCO Model KMB-IM CNC machine Table size: 14' x 49", Vintage: 1985
HURCO Model SMI Vertical Mill,
Table size: 12" x 42", Vintage: 1985
BRIDGEPORT Series 1 Mill,
Table size: 9" x 42", Vintage: 1981
BRIDGEPORT Series 1 Mill,
Table size: 9" x 42", Vintage: 1982
BRIDGEPORT Series 1 Mill,
Table size: 9" x 48", Vintage: 1996
BRIDGEPORT Series 1 Mill,
Table size: 9" x 48", Vintage: 1997
SUPERMAX Mill,
Table size: 9" x 49", Vintage: 1983
ENCO Mill,
Table size: 10" x 54", Vintage: 1987
GORTON Mill,
Table size: 10" x 42", Vintage: 1966
CLAUSING KONDIA Mill,
Table size: 9" x 48", Vintage: 1992
CLAUSING KONDIA Mill,
Table size: 9" x 48", Vintage: 1993
ACER 3VK Mill,
Table size: 9" x 42", Vintage: 1995
Metal Turning Equipment
MITSUBISHI CNC Lathe,
Model M-TC10B, Vintage=1994
IKEGAI CNC Lathe,
Model AX20N
LeBLONDE 14" Tool and
Die Maker Lathe 21" center to center
SOUTH BEND Engine Lathe
40" center to center, with ACU-RITE Readout
CLAUSING COLCHESTER Lathe
50" center to center, Vintage: 1995
Cut Off Equipment
EMERSON Horizontal Band Saw
7" x 11" capacity
DOALL Vertical Band Saw
16" throat depth x 8" thick
DOALLAuto Cutoff Band Saw
Model C-912A
JOHNSON Horizontal Band Saw
10" x 24" capacity
Design Equipment, 4 stations
Pentium Computers
AutoCad, Release 14
MasterCam Machine Programming
networked to all CNC equipment
CALCOMP TECH Jet Plotter
Grinding Equipment
Harris Grinder,
6" x 12", Vintage: 1980
Harris Grinder,
6" x 12", Vintage: 1984
DOALL Grinder,
6" x 12", Vintage: 1980
OKAMOTO Grinder,
12" x 24", Vintage: 1981
JET Grinder,
6" x 12", Vintage: 1982
Sheet Metal Equipment
7 Ton Punch Press
for small short-run stamping
DIACRO Hand Bending Brake
36" capacity
Roper Whitney Hand Punch
up to 1" capacity, 22 guage
DIACRO Notcher
6" x 6" x 90 degrees
Drilling and Tapping Equipment
---
WILTON Pedestal Drill Press
DELTA Drill Press
with TAPAMATIC Head
Miscellaneous Equipment
KRAMER Vibratory Finishing Unit
30 Ton Hydraulic Bushing Press
Soldering and Brazing Equipment
THERMOLYNE heat treating ovens, 2
BALDOR Pedestal Grinder
ATLAS Sanding Unit disc and belt
Sand Blasting Unit, small
12" BRIDGEPORT Indexing Head
6" YUASA Indexing Head
SC Collet Type Indexing Head
HARIG Grind All Fixture
J&L Grinding Wheel Dresser
6" x 6" Magnetic Sine Plate
GORTON Panagraph
BLACK DIAMOND Drill Sharpener
HAAS Automatic Indexer
with SC spindle
IKEDA Radial Drill 4 foot arm
Quality Control Equipment
Granite Surface Plate
36" x 60" x 10'' thick
Granite Surface Plate
12" x 18" x 4'' thick
INDISQUARE
with right angle granite square gage
18" Height Gage, 2 units
0-6" SET Outside Micrometers with set of standards
One Set Inside Micrometers
One Set Standard Gage Blocks
One Set Gage Pins 0.011 thru 0.060, 0.001 increment
One Set Gage Pins 0.061 thru 0.250, 0.001 increment
One Set Gage Pins 0.251 thru 0.500, 0.001 increment
One Set Gage Pins 0.501 thru 0.625, 0.001 increment
One Set Gage Pins 0.626 thru 0.750, 0.001 increment
Other Equipment
MITSUBISHI Wire EDM,
Model DWC90C
HURCO RAM EDM,
Model 900 Mark 2